Prince of Persia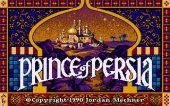 system:
DOS
released:
publisher:
developer:
designers:
view:
keywords:
Broderbund released Prince of Persia in the year 1990. Prince of Persia is a old action game, part of the Prince of Persia series. Prince of Persia is abandonware, runs on DOS and can be played by up to 1 player. Prince of Persia can be described by the keywords: Middle East, scrolling: side. Prince of Persia is available for download.
ACE review:
"Programmed by Broderbund in France, Prince of Persia is a triumph of animation techniques and game design, and should not be missed."
Adventure Classic Gaming review:
"Regardless of your feeling for nostalgic gaming, Prince of Persia is a game that must not be missed. It is a perfect example of how a game needs not to have the latest graphics or the best sounds to be an enduring game. It is an action adventure that is built upon a simple but elegant premise that taps into the part of our psyche yearning for the thrills of exploration and danger."
Prince of Persia downloads
Trivia, facts, etc.
Mechner (the game designer) used a process called rotoscoping, in which he studied many hours of film of his younger brother David running and jumping in white clothes, to ensure that all the movements looked just right.
In 1992, a famous Russian author Victor Pelevin wrote a short story called "Prince of Central Planning" which shows a Soviet bureaucratic organization in which everyone plays computer games all the time (using American computers, which were in very short supply in the Soviet Union at the end of 1980s). Nobody really works but actually lives in the world of the game he is playing at the moment. The protagonist Alexander (or Sasha as this name shortened in Russian) lives in the world of Prince of Persia (i.e., he encounters red potions, guardians, spikes and blades in the streets and on the subway during his daily life). The story was a heavy satire on Soviet bureaucracy and resembles stories of Philip K. Dick.
Facts, trivia and collector's notes are licensed under the GNU Free Documentation License. These texts use material from this Wikipedia article.
Comments
Tell others what you think about Prince of Persia: did you play it? Did you like it or hate it? If you have problems running Prince of Persia, please read the
F.A.Q.
first. The e-mail will ONLY be used for personal contact: absolutely NO SPAM.