Friday, 25th March 2022
Cabal: an abandoned shooting gallery game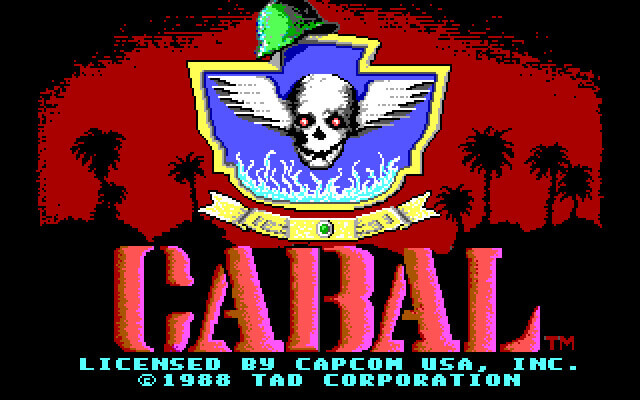 Cabal is an abandoned arcade conversion of a popular shooter game set in Southeast Asia during the Vietnam War. Cabal was developed by TAD Corporation and released by Capcom in 1989 for DOS.
Zero Magazine (issue 06) wrote: "The idea in not only to shoot everything that moves but also most of the scenery. This renders the opposition "sitting ducks" and often drops goodies to your baseline. Yummy, a super-duper machine gun. Oooh look! Grenades! Just what the international arms dealer ordered. In two player mode, the fun is doubled as it's a case of scrambling for the power-ups. Unfortunately co-operation is the name of the game, since you can't shoot your partner. Shame."
Cabal was followed in 1990 by Blood Bros., though the sequel had a western theme as opposed to Cabal's Vietnam-era theme.
You can play Cabal directly in your browser on Abandonware DOS!
More info on Cabal:
Genres: shooter, shooting gallery
System: DOS
Released in: 1989
Publisher: Capcom
Developer: TAD Corporation
Themes: modern world, military, Vietnam war
Keywords: fixed screen, coin-op conversion, Southeast Asia
Multiplayer modes: single-player, co-op
Input: keyboard, joystick
Distributed on: 3,5 floppy disk, 5,25 floppy disk
Also published for: Amiga, Amstrad CPC, Atari ST, C64, NES, ZX Spectrum
Find out more about Cabal
---