Saturday, 17th April 2021
RPG spotlight - Ultima IV: Quest of the Avatar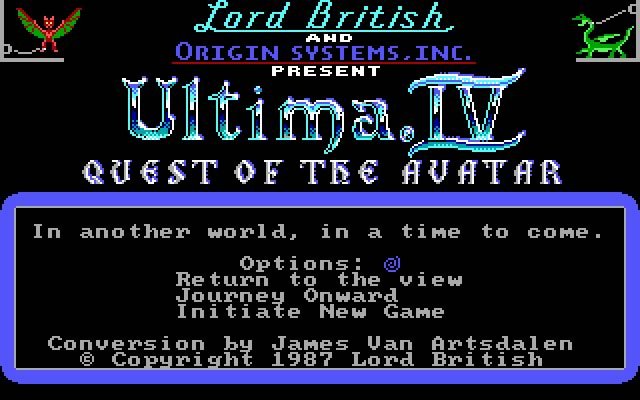 Ultima IV is remembered as one of the best Ultima games ever released, designed as usual by Richard Garriott. Garriott took the Ultima series to a whole new level by introducing the eight virtues: honesty, compassion, valor, justice, sacrifice, honor, spirituality, humility. Ultima IV started the trilogy known as "Age of Enlightenment".
Ultima IV was selected for All-TIME 100 video games TIME.com.
The Ultima IV box included a History of Britannia book, a Book of Mystic Wisdom, a cloth map of Britannia, a metal ankh, 2x 5.25" disks.
CVG Magazine review - issue 056 (1986)
"There is plenty to do Ultima IV, so much in fact, that is cointained on two double sided disks, which you are prompted to change over when necessary. As well as a certain amount of animation, there are sound effects to accompany your actions. It can be turned on or off instantly by a single keystroke, should you tire of it. This is an absorbing game with plenty of depth, that should please those who enjoy quest-type adventures, and dedicated purists who are partial to straying occasionally from the orthodox text graphics adventure format."
Genres: RPG, sandbox RPG, top-down party-based RPG
System: DOS
Released In: 1985
Publisher: Origin Systems
Developer: Origin Systems
Designers: Richard Garriott
Keywords: fantasy, multi-directional scroller, open world, party-based, top down, Ultima
Input: keyboard
Distributed on: 3,5 floppy disk, 5,25 floppy disk
Find out more about Ultima 4: Quest of the Avatar
---