Thursday, 20th October 2016
Electronic Games Arcade Awards - 1983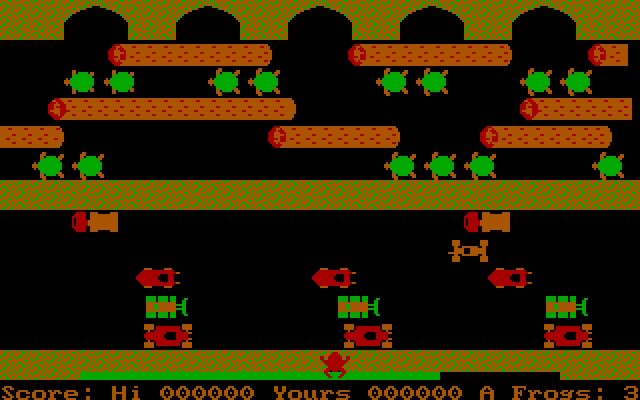 Abandonware DOS is made possible by displaying online advertisement to visitors.
Please consider supporting by allowing ads to be displayed or by donating. Thanks!

Electronic Games was a computer magazine focused entirely on early video games. Every year, the Electronic Games Arcade Awards crowned a few Games of the Year. This is a list of the best games published in 1983.
1983
3-D Sky Attack

Mini-Arcade Game of the Year

Tomytronic 3D

Advanced Dungeons & Dragons

Best Adventure Game

Intellivision

Archon: The Light and the Dark

Most Innovative Computer Game

Atari 8-bit

Centipede

Best Computer Action Game

Atari 8-bit

Donkey Kong Jr.

Best Videogame Audio/Visual Effects

ColecoVision

Dragon's Lair

Best Coin-Op Game Audio/Visual Effects

Free Fall

Most Humorous Computer Game

Apple II

Frogger

Best Arcade-to-Home Computer Game Translation

Atari 8-bit

Kangaroo

Best Arcade-to-Home Videogame Translation

Atari 5200

Lady Bug

Videogame of the Year (16K or more ROM memory)

ColecoVision

Learning With the Leeper

Best Educational Computer Game

Apple II

Lode Runner

Computer Game of the Year

Apple II

M.U.L.E.

Best Multi-Player Computer Game

Atari 8-bit

Miner 2049er

Electronic Game of the Year (Players Pick)

Apple II, Atari 8-bit

Ms. Pac-Man

Videogame of the Year (Less than 16K ROM memory)

Atari 2600

Pole Position

Coin-Op Game of the Year

Q*bert

Most Innovative Coin-Op Game

Q*bert

Stand-Alone Game of the Year

Parker Brothers

River Raid

Best Action Videogame

Atari 2600

Vanguard

Best Science Fiction/Fantasy Videogame

Atari 5200

Witness

Best Computer Adventure

Apple II, Atari 8-bit, Commodore 64, DOS

Xevious

Best Science Fiction/Fantasy Coin-Op Game
---