Saturday, 15th August 2020
Pharaoh: city building in ancient Egypt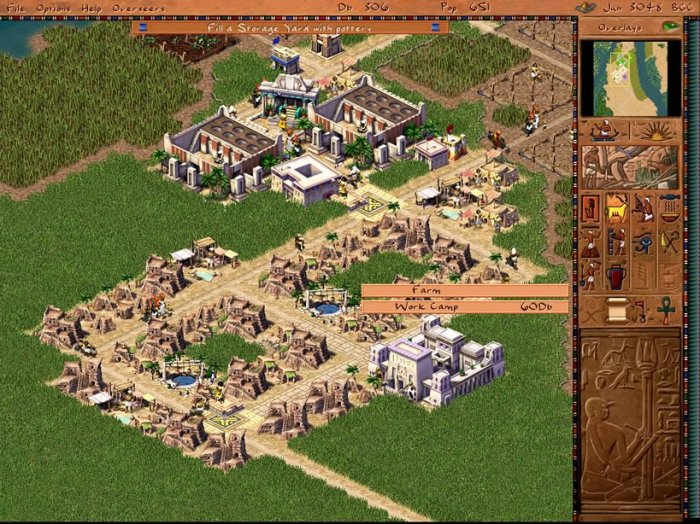 Abandonware DOS is made possible by displaying online advertisements to visitors.
Please consider supporting us by disabling your ad blocker.
Pharaoh is a city building strategy game that is part of a group of games that uses the same interface and the same gameplay style: Pharaoh, the Caesar series and Zeus. Here's a couple of excerpt from reviews of old video game magazines.
"Controlling all the aspects of civilization can be quite daunting, but Impressions Games have made a big impression (no pun intended) on me with their elaborate yet entertaining game. It's incredibly cool to be "idolized" by the populace and elevated to "godly" status. Talk about feeding the ego. Give it a whirl; you'll be pleased you did."
- GameSpy (2001)
"If you are new to the city-building gaming community, and you want to experience this style of play, I highly recommend PHARAOH as a worthy purchase. You will experience many hours (60 to 80 estimated) of enjoyment. Remember, this is a game of city building and economics. Many problems will crop up that you have to take care fairly rapidly. You will be pressed to take care of everything at the beginning. But, be persistent, because you will gain a lot of satisfaction from the experience. If you are familiar with the series, I recommend it to those who want more of the same fun they found in CAESAR III. PHARAOH doesn't break any new ground. But, there are new components to deal with, such as the Nile flooding and building the monuments. Besides, there are a lot of scenarios to keep you busy for a very long time. This is, in summary, a really fine game, worthy of a "Golden Nugget" for gameplay and the manual."
- gonegold.com (1999)
Learn more