Saturday, 15th May 2021
Collector's info: Leather Goddesses of Phobos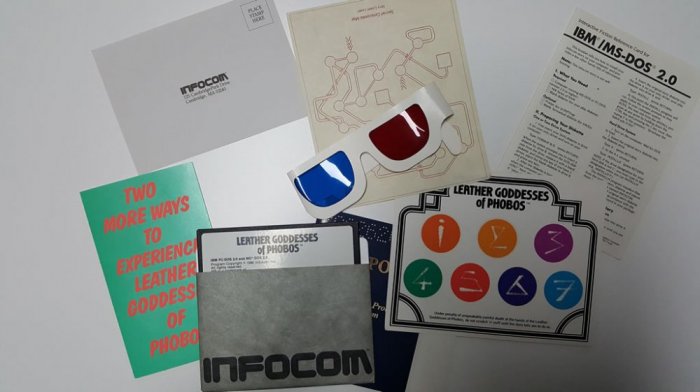 Infocom interactive fiction games are fondly remembered by fans not only for their quality, but also for the sheer number of "feelies" (physical items) you could find in each original big box.
Leather Goddesses of Phobos, a sci-fi humorous text adventure, came with some of the most peculiar feelies ever. I mean... a scratch and sniff card for copy protection!
The items included in the Leather Goddesses of Phobos big box were:
A small scratch and sniff card which bore seven numbered areas. At certain points in the game, the player would be instructed to scratch a certain number and then whiff the resulting odor. Given the possibilities for a game featuring a "lewd mode", the scents were relatively innocuous, such as pizza and chocolate.
The Adventures of Lane Mastodon, a 3-D comic book containing vital hints to the game.
3-D glasses for the Lane Mastodon comic book.
A double-sided map of the catacombs.
Here's a few pictures of my personal PC-IBM edition of Leather Goddesses of Phobos (thank you eBay).
Find out more about Leather Goddesses of Phobos
---