Saturday, 29th January 2022
Loom: a fantasy adventure by Lucasfilm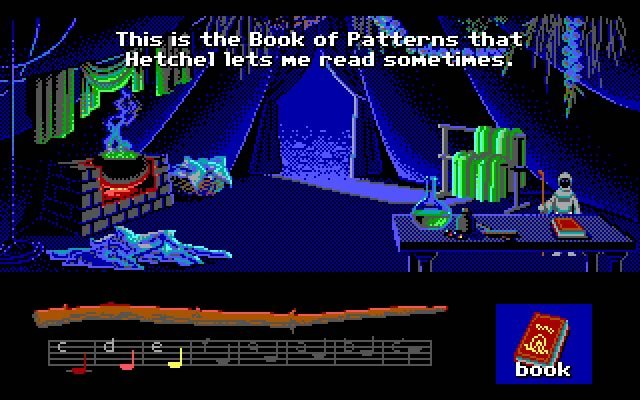 Loom is one of the first graphic adventures released by Lucasfilm Games. It was designed by Brian Moriarty and it follows a fantasy theme. There's no inventory and it lacks classic commands like "look", "take", etc. You can play tunes using a combination of notes in order to interact with the world.
More info about Loom:
Genres: adventure, point and click adventure
System: DOS
Released In: 1990
Publisher: LucasArts
Developer: LucasArts
Designers: Brian Moriarty
Keywords: fantasy, Engine: SCUMM
Modes: single-player
Input: keyboard, mouse, joystick
Distributed on: 3,5 floppy disk, 5,25 floppy disk, cd-rom
Also published for: Amiga, Atari ST, FM Towns, Linux, Macintosh
The original package offered an audio tape with a 30 minute audio drama that explained the nature and history of the Loom world, and the whereabouts of Bobbin's birth. The package also offered an illustrated notebook, The Book of Patterns, supposedly belonging to apprentice weavers in the game world.
Find out more about Loom
---