Saturday, 9th April 2022
From the arcades: Turbo OutRun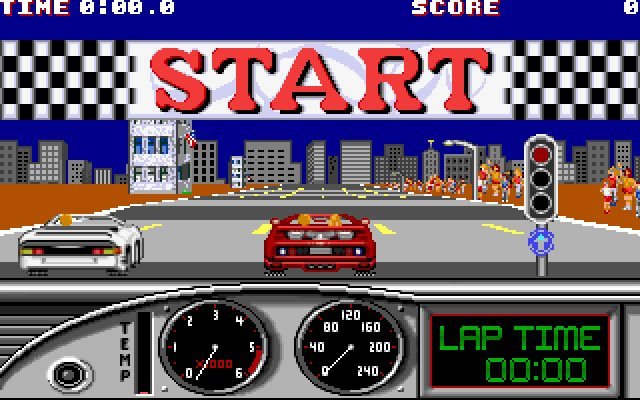 Abandonware DOS is made possible by displaying online advertisements to visitors.
Please consider supporting us by allowing ads to be displayed or by donating a small amount. Thanks!


Turbo OutRun is an abandoned DOS action racing game set in North America, developed and published by Sega in 1990. Turbo OutRun is a conversion from the arcade classic of the same name and it's the sequel of the popular OutRun. The OutRun games are regarded as iconic and representative of the late 80s/early 90s, often cited by retrowave enthusiasts.
In 1990 Zero Magazine wrote: "On the ol' addictiveness and playability front, Turbo Outrun is absolutely brilliant. The little extras, like the turbo, make the game different from the usual racey ones and hitting turbo just as a police car reaches you, is fab. Okay, it's yet another drivey game. But it's addictive and it's got an extremely good learning curve. It's great fun to play and without doubt a vast improvement on the previous Outrun incarnation. If racey games are your particular bag of spanners, then there's absolutely no reason not to buy Turbo Outrun."
More info about Turbo OutRun:
Genres: racing, racing: car
System: DOS
Released in: 1990
Publisher: Sega
Developer: Sega
Designers: Satoshi Mifune
Themes: modern world
Keywords: coin-op conversion, North America, third person 3D
Multiplayer modes: single-player
Input: joystick, keyboard, mouse
Distributed on: 3,5 floppy disk, 5,25 floppy disk
Also published for: Amiga, Amstrad CPC, Atari ST, C64, FM Towns, Genesis, ZX Spectrum
I must admit that I'm fond of both OutRun and Turbo OutRun because they remind me of that typical 80s sound that later inspired synthwave and retrowave music...
Find out more about Turbo OutRun


---