Saturday, 14th May 2022
The beginning of Ultima Underworld: The Stygian Abyss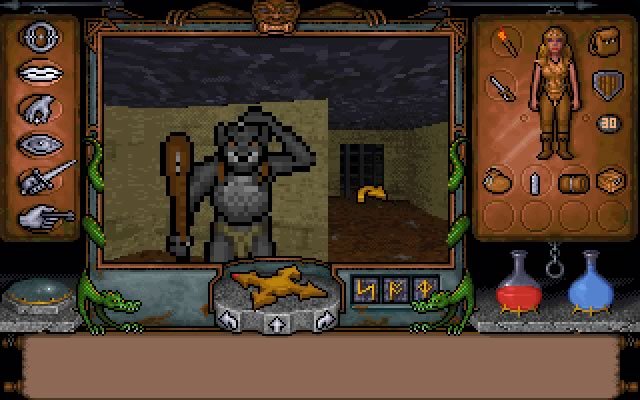 Ultima Underworld: The Stygian Abyss is a first-person 3D RPG set in the Ultima universe created by Richard Garriott. Ultima Underworld was designed by Paul Neurath, developed by Blue Sky Productions and released by Origin Systems in 1992. It was followed by Ultima Underworld II: Labyrinth of Worlds.
More info about Ultima Underworld: The Stygian Abyss:
PC Review reviewed Ultima Underworld in issue 8 (1992-06): "But as a game (and not a philosophical issue) I can't find any major faults to Ultima Underworld. It may not look like a Rembrandt when up close (it's more like a Picasso), but you spend so much time moving you hardly care a whit. The size may be daunting, but it's more a challenge than a put-off. The controls are unbelievably easy when you get the hang of them and the whole system is very clever indeed. It's probably not the hardest game you'll ever play and despite the realism, it's easy to live without it, but I can see anyone that does venture into the abyss having a whale of a time. I have heard reports of people already claiming to have completed it, but I suspect these are the kind of people that can play te average arcade game with their feet abd still clock it. For the rest of us mere mortals it's a wonderful game and an experience not to be missed."
The Ultima underworld original box contained:
a Player's Guide
a Memoirs of Sir Cabirus book
a Runestone bag with six runes: B I J L O S
a paper map of the Stygian Abyss
5x 5.25" disks
Find out more about Ultima Underworld: The Stygian Abyss
---