System Shock 2
System Shock 2 is an old Windows XP/98/95 science fiction action-adventure game, developed by Irrational Games, designed by Ken Levine and published by Electronic Arts in 1999. System Shock 2 is also part of the System Shock series.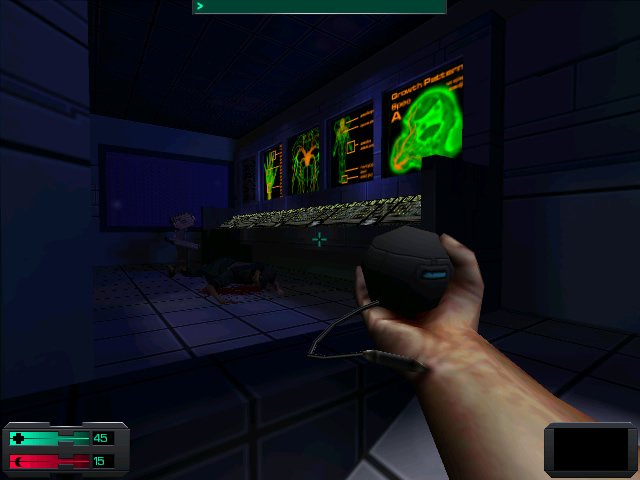 Genres:
released in:
publisher:
developer:
designers:
keywords:
Modes:
series:
Downloads for System Shock 2
Under some recent versions of Windows, if you alt-tab and then go back to the game, the interface gets messed up.

Games that run on older versions of Windows can't run on recent systems. You will probably need a Virtual Machine to run the game.
Additional info
Input: joystick, keyboard, mouse
Distributed on: cd-rom, download
Graphics: SuperVGA
Abandonware DOS views: 8520
Comments
Kevin - 07/09/2016 10:02

Did you like Fallout 3? This game is pretty cool. You need to take time to add some graphic enhancement mods to it (they exist and it helps). It lets you explore a ship, semi linear, semi open ended. You unlock sections of the ship at a time. Find keycards. Find upgrade modules to upgrade your character. It feels fun if you enjoyed Fallout 3's rpg elements mixed with FPS.

You'll get to horde items, manage inventory, and the value of experience points (upgrade modules) will never be enough, in a sense thats a good thing. The game limits your xp through a limited number of items you collect in the ship. Its not really that bad if you specialize. But unlike Fallout or Oblivion, you wont be jack of all trades end game. They had mods to fix that, but it breaks the imersion of the game. Part of the fun is the scarcity in ammo and items. youll search everywhere for everything, and spare what you do find. Definitely not a doom shooter. If you want plenty of ammo, and guns blazing, this wont be for you. Monsters are fewer, but more like obsticles you want to gun down. The story feels like half life, climbing vents, looking for specific things to progress.

Most of the time the game was scary. With its aged moldy graphics, it still impacts fear. I like it becuase its not jump scares, its just the classic... monster voice around the corner, that heard you, and... your like "fck". I mean you might have what you need, to deal with it, but youd rather just scrounge around for free stuff without using ammo.

I enjoyed it. It feels semi open world. You get zones to explore, and there is a lot of backtracking but it only leads to opening new areas in old zones. General story is the ship doesn't work at all, and youll spend much time getting doors, elevators, to work again, and progressively cleansing areas of alien infestation. Eventually youll be forced to end it once and for all, half life style, going into the heart of the alien infestation. If you are playing through the game, and really enjoy it, but want to know what the ending is like... DONT youtube it. I watched the ending, said, oh thats awsome, then lost incentive to complete the game, since I knew the ending.


Tell others what you think about System Shock 2: did you play it? Did you like it or hate it? If you have problems running System Shock 2, please read the
F.A.Q.
first. Your e-mail will NEVER be used for spam.