Tuesday, 10th May 2016
Empire TV Tycoon: a remake?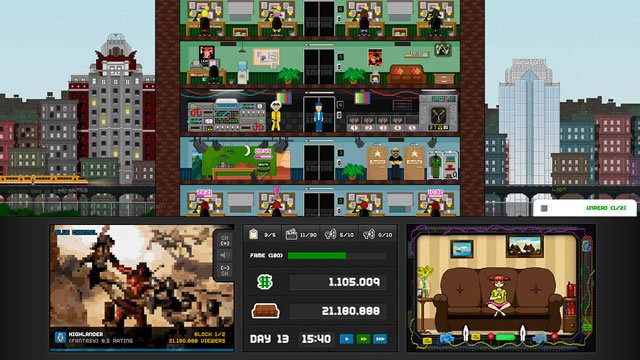 Does anybody remember MadTV? MadTV was a unique business simulation published in 1991 by Rainbow Arts in which the player had to run a TV station. To my knowledge, no other similar game existed (at least not for DOS or Windows, at the time).
Thanks to Steam Greenlight, now we have a clone called Empire TV Tycoon. Yes, you read it right, a clone. If you don't believe me, look for yourself at the Steam page. The interface layout is the same: the building in the middle of the screen, the TVs at the bottom, your character runs up and down in an elevator. It's really the same game. The developers (the spanish Dreamsite Games) say that Empire TV Tycoon is a spiritual successor of MadTV. Don't get me wrong, I bought Empire TV Tycoon and I enjoyed it, but it's not an original concept.
In order to succeed in taking your TV Empire to the top you have to schedule programs (movies, documentaries, tv shows), manage advertising, buy, sell and even produce movies or tv series. And, while doing all this, remember to keep an eye to the rival TV stations, you don't want to lose audience, do you?
In the end Empire TV Tycoon is an enjoyable game, maybe not for everyone. If you love tycoon games, you will like it.
Find out more about Mad TV
---