Friday, 30th December 2016
What's new on Abandonware DOS?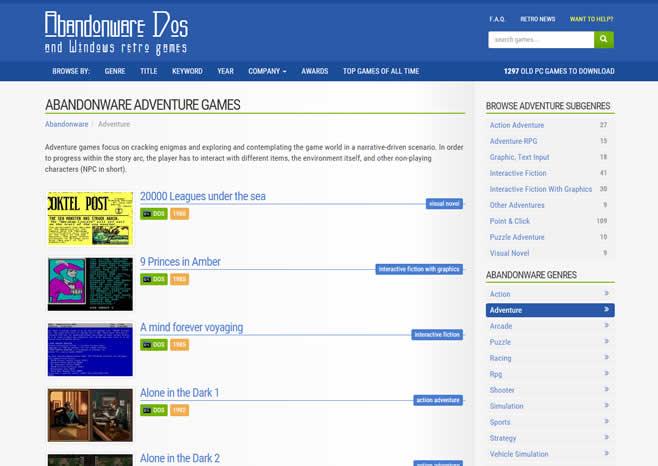 Year after year, Abandonware DOS grows, changes, becomes better and better. Lately I fixed a lot of bugs and tweaked a few "invisible" parts of html and php code. I also changed how some pages appear to the public, in order to make Abandonware DOS easier to navigate. Here are some of the updates that I worked on in the last few months.
The game info page changed a lot. The design is now more elegant and usable; it's easier to understand where everything is and some things are better explained (i.e. why some games are not available for download?). Some of the best games now boast a DOS classic award badge.
The "recent games" page doesn't exist anymore. There's no point in reviewing recent games on an Abandonware site, right?
The homepage changed again and now it shows the latest added / updated games along a "DOS game of the week" box and a "screenshot of the day" image.
There's a new screenshots page and a DOS Classics page focused on... well... DOS classics only. I also created a Classic Windows Games page where you can browse for Windows games (Windows XP, Windows 3.1, Windows).
I took some time to expand the FAQ section with more questions and answers. I also wrote a complete guide to download and install DOS games using D-Fend and a guide on how to use a DOS emulator.
Developers, Designers and Publishers pages contains now much shorter lists, but you still can browse companies in alphabetical order.
I repackaged a quantity of zip archives that didn't work in D-Fend if you just drag them into the D-Fend window. The road to make zip files easier to install is a long one though...
That's all!